Artisan at Work Festival
The Lok Mela also called the Artisans at work Festival is held annually , dates vary each year so you need to check with us. In the festival you can get to see skilled artisans at work, creating beautiful handmade items for decorations and house hold use, various colourful folk dances of different regions of Pakistan, hear songs that have been sung and music that has been played for generations and taste traditional foods from different parts of Pakistan.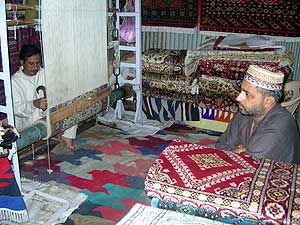 Bringing colourful display of craftsmanship and skill, more than 500 local artisans, musicians and craftsmen from all parts of the country participate in the festival besides different countries from around the world send their artisans and performers to the festival too.
The stalls set up by the artisans are lit with the colours of exotic fabrics and crafts, Each province is represented in different pavilion with displays of, shawls, 'namda' and 'gabba' Ajrak, earrings, necklaces of gleaming stones , rugs , carpets, leather embroidery, crafts using date leafs, glittering metal crafts of brass and copper, stone carving on slate in diversified fashion used on table tops, planters, wall hanging , lamps trays .
Skilled craftsmen shape clay pots and baskets for visitors while others carved exquisite designs into wooden chairs, slates, metal and tiles. Each year the best artisans in honoured.There is non stop folk music and dancing performances from different folk groups of Baluchi, Punjabi , Sindhi, Cholistan, Khatak, Kalash Chitral and northern areas.
There is a rural village atmosphere in the colourful festival which a lot of foreigners to the event.
We organize package tours to all festivals in different regions of Pakistan.