Basant Festival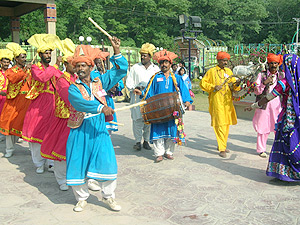 In early March to welcome the arrival of spring the Basant ( Kite flying ) festival is held in most cities of the Punjab with the highlight in Lahore . In the subcontinent and China kites have been used in different form since ancient times. From 100 BC to AD 500, kites were used for sending signals and to measure the distance of enemy camps. In AD 930, the Japanese mentioned Shiroshi, meaning paper bird, for the first time. Between AD 960 to AD 1126, kite flying became a popular sport in China. The ninth day of the ninth month was a day when kites were flown to banish evil.
In Pakistani towns and cities, where there is less open space, terraces and rooftops are often used for the kite competations. It is more colourful in the old city of Lahore where everyone wears yellow clothes and flies kites from the rooftops. People from different cities throng to Lahore, where kite flying begins at dawn and continues until the dusk. Friends, neighbors and visitors battle one another for victory and cries of triumph fill the air when one cuts the kite string of the another kite flyer. The kites are in a variety of shapes , size and different colours. From huge kites which need three to four people to fly to tiny ones for the kids. Ground glass coats the kite strings to cut down rivals, and excitement reaches fever pitch in the many kite battles throughout the city.
Colourful gates are built at all entries including airport, railway station, Ravi bridge, Minar I Pakistan, Thokar Niaz Beg, Chungi Ammar Sadhu and Motorway toll plaza to greet the people reaching Lahore. Gowalmandi food strret, Old Anarkali tourist street and Gulberg main boulevard are decorated in connection with Basant festival.
Kite flying is just one aspect of this spring festival which opens up with a colour ful ceremony featuring performance of 16 army bands, folk dances of Punjab, displays of brass band, fireworks, acrobatics and stall of traditional foods and artisans at work. The festivities simultaneously run at Jilani park, Minar I Pakistan and Gulshan I Iqbal free of charge for the public who gather in large numbers. Cultural troupes from other provinces besides Punjab along with foreign music groups perform at Jilani park with some of the events as :-
Free music programmes are presented at Tourist street, Old Anarkali, Jilani Park, Mini Tollinton Market and National Bank Park on Basant night.
A colourfull Basant Rang music programme is presented at Noor Jehan Hal of the Alhamra Cultural Complex Qadahafi Stadium.
All Pakistan Kite flying championship at Iqbal Guddi ground.
Kite flying competition for film artistes is held at Jilani park.
A dog show is held at Jilani park.
A flower arrangement competition is held a Jilani park
A show of pet birds at Gulshan I Iqbal park.
Tableau and songs competition amongst school children is held at Jilani Park.
A poetry mushaira competition with theme "Spring in the air" is held.
A painting competition amongst schools and displays is held.
The spring festival concludes with the Lahore parade which starts near the Qadafi Stadium and concludes at Jilani park. Floats prepared by different groups, school bands, skaters, cyclists, folk dancers and people attired in different traditional dresses of Punjab participate in the parade. The closing ceremony is followed by a colourful musical programme.
We organize package tours to all festivals in different regions of Pakistan.