Jashan e Chitral
The Jashan-e- Chitral is celebrated from 15 to 22 September each year.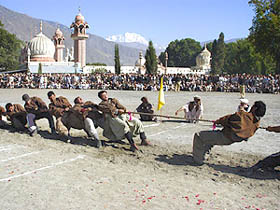 This is a week long festival of cultural activities and traditional sports of the mountain communities of the Hindukush & Karakorum region.
This festival has been revived after 20 years through initatives from CAMAT ( Chitral Association for Mountain area tourism ). The festival involves organizing the event through community participation and volunteers taken from different sections of society .
The ex-state of Chitral encouraged Jashan e Chitral and other cultural activities.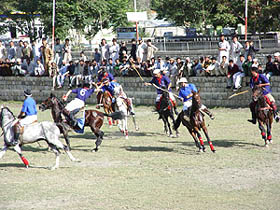 Besides traditional sports music and polo were events where teams from different administrative units took part. The winning teams in all events were honoured with privileges. The Jashan was given large publicity and provided an opportunity for the different communities to come closer to each other . In the Jashan various indigenous events were arranged such as poetry, sitar music and traditional sports. Later, due to lack of patronage in the 70ís the Jashan could not be held for many years. At the same time imported sports got introduced through the electronic media. CAMAT (Chitral Association for Mountain Area Tourism) realized there was still time to revive the traditional sports. The Chitrali elders and youth were motivated and Jashan e Chitral is now revived.
Each year the following events are scheduled.
Traditional dancing & singing
Archery contest between Nuristani tribes
Swimming across torrential rivers
Rock climbing at ShaSha cliffs
Rafting down Chitral river
Wild mountain polo , horse races and Buz Kashi
Traditional wrestling and tug of war, shot puts
Wrestling on wooden logs placed high over water
Sitar music, Mushaira and local Drama
Traditional handicrafts on display
Kalash festival events in Birir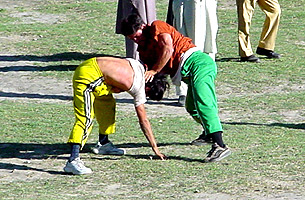 There are 15 groups from different regions of Chitral performing sitar music & dancing. teams from Northern area also participate in some of the events.
The Jashan is now attracting enthusiastic domestic and International tourists. This is an annual event on fixed dates so you can plan it in your itineraries.
Hindukush Trails runs regular trips to these festivals with private homes stays to get to know more of the people and their culture and a chance to taste traditional local cuisines which you miss out while staying in hotels.
We organize package tours to all festivals in different regions of Pakistan.