Game Reserves
Chitral Game Reserves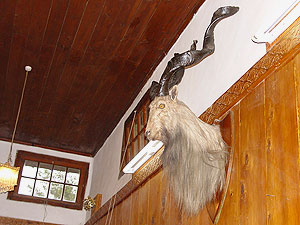 There are a number of Game reserves set up by the Royal family of Chitral. Amongst this the biggest one Chitral Gol is now a national Park. When the park was handed over by the Mehtar ruler of Chitral to the government for administration the head count of Markhor was around 3000.
When Chitral was a state there were a number of private game reserves where the animals were well protected. The popular game reserves set up by our family are Ghairet Gol set up by prince Dilaram Khan, Shoghor Gol set up by Prince Mata ul Mulk Besti by Prince Mohiuddin, Acholgah by Prince Khush ahmed ul Mulk and Thushi by Prince Burhanuddin. Besides the animals the vegetation in these reserves was well protected and fodder laid out for the wild goats during harsh winter months. Prince Burhanuddin's Thushi Game reserve has a private hut in it which blends beautifully in the environment , this reserve hut now belongs to his nephew Prince Sikander ul Mulk. The animals are sighted across a stream on the slopes of Thushi. The house is situated on the other side of the river with a bridge leading into it .A door is installed on the bridge to keep both the public and the government game wardens away from the animals. The access route being blocked the animals feed undisturbed and walk into the house and orchard of Prince Sikander ul Mulk. There are about 300 Markhor in the reserve and sightings are 100 %. Snow leopard visits the area during snowfalls too. Till 1984 it was a wonderful sight to see Prince Burhanuddin purchasing fodder and feeding the Markhor an animal he never then hunted. Prince Khush Ahmed ul Mulk gifted most of Acholga game area to the Kalash community.
Limited trophy hunting is now allowed in these reserves and the benefit from the game fee goes to all the communities in the surrounding villages to discourage them from poaching.
Both Markhor and Ibex permits are available with us.
Thorghar Game Reserve
Sakra Game Reserve
The Sakra mountains are situated in Rustam tehsil of Mardan district of NWFP. In Pakistan Sakra may be the last strong hold of the Kabul Markhor. Conservation efforts were initiated by a local NGO called OCEAN, which is managed by Asghar Khan and the Khan of Thana Asad Khan. With the involvement of the local communities a Community Game Reserve was created involving 9 villages in the project area. Sakra is the abode of the Kabul markhor, the Goral, wolf and the leopard. Many bird species are found here, principally the gray and black partridge, which may be hunted on a permit given by the local communities.
Salt Range Game Reserve