K2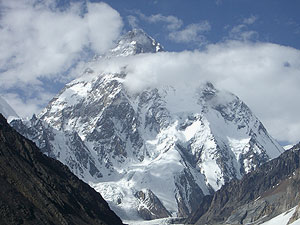 K2 the mountain of mountains, at 8,611m is the second highest peak after Everest. It is situated in the Karakoram mountains of Pakistan . It is a pyramidal peak, more beautiful than Everest and harder to climb. The traditional route to its base camp goes from Skardu, which is linked with the capital Islamabad both by road as well as by air . From Skardu the route goes via Askole up the Baltoro Glacier to Concordia .
History
In 1856 T.G. Montgomerie of the Royal British engineers established good relationship with Gulab Singh the ruler of Kashmir. He was thus given permission to carry surveys in remote corners of the state. During his surveys he marked a peak in the Karakorums as K1. ('K' standing for Karakorams). This was later identified as Masherbrum in Hushe valley in Khaplu area of Baltistan. He also saw another tall and dominating summit behind K1 and named it K2. The local name of K2 is Chogori, which in Balti language means the king of mountains, this name is little known in the outside world and it is popular as K2.
Accompaning Montgomerie on one survey was Captain Henry Haversham of the Survey of India . Captain Haversham Godwin-Austen had earlier surveyed Kajnag range in southern Kashmir and was the first to put Gulmarg on the map. In 1858-59, he surveyed eastern Kashmir including Jammu then in 1860 he went to Baltistan to survey Shigar and Saltoro valleys, in 1861 he went up the Braldu valley from Skoro-La (5,043m) surveying Chogo-lungma, Kero Lungma, Biafo and Panmah glaciers. It was from Kero Lungma that Godwin-Austen climbed the Nushik pass (4,990m) becoming the first to enter the 53-km-long Hispar glacier exploring Baltoro and Godwin-Austen glacier. It is however a myth that K2 , which was also referred to as Godwin-Austen peak, was discovered by him.
Another famous explorer of this region was Sir Francis Younghusband in 1887, he crossed Gobi desert from Peking and entered India by crossing Mustagh pass becoming the first European to observe K2 from the northern side.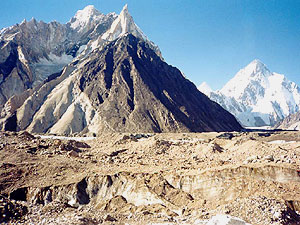 In 1902, the first attempt to climb K2 was made by a multi-national expedition of experienced British, Austrian and swiss alpinist led by the Englishman Oscar J.L. Eckenstein. Traveling up the Boltoro glacier their approach climb was directly from the south over the south east ridge . After struggling up the Godwin Austin glacier they were forced to withdraw by heavy snow and harsh weather. They concluded that the north east ridge was probably much easier, information collected by them on the Godwin-Austen glacier was very helpful for later expeditions into the region. Two expedition members Dr. Jules Jacot Guillarmot swiss and Dr. V. Wesseley from Austria climbed to 6,523m on the north-eastern ridge of K-2. The party also ascended Skyang La (6,1 50m) .
In 1909 the brilliant explorer the Duke of Abruzzi Luigi Amadeo Giuseppe the grandson of King Victor Emmanuel II of Italy led a big Italian Scientific to K2 . Its members produced a very good account of the expedition with photographs and accurate maps of Baltoro area. The Duke, however, rejected the southern and western ridges of the mountain for a climb. His party attempted the peak from the south-east ridge-which later came to be known as Abruzzi ridge - but could not proceed beyond 5,560m/ because of porters problem. The party, however, carried out a thorough reconnaissance of K2 from south to north-east. Vittono Sella, a photographer and a climber, accompanied the Duke on this expedition. Sella pass, near Godwin-Austen glacier, is named after him.
Two famous British mountaineers, Harold William Tilman and Eric Earle Shipton, explored and surveyed the north face of K2 and its subsidiary glaciers in 1937. On a survey mission to Shaksgam valley they also visited the Trango and Sarpo Laggo glaciers and surveyed the famous Skamri glacier. Tilman was a famous explorer, mountaineer, sailor and writer. He also distinguished himself as a planter in Kenya. Shipton, on the other hand, was one of the significant explorers of the present century. He was Tilman's companion on most of the expeditions. Shipton was also Consul-General of India in Kashgar in 1940-42 and then in 1946-1948.
In 1938, the American Alpine Club sponsored a small but strong four member party on a reconnaissance to K2 . This was led by Charles Houston a Harvard educated medical doctor who two years previously had been on the successful expedition to Nanda Devi with Paul Petzoldt, a cowboy from Wyoming,. Six sherpas from Nepal were also on this expedition as porters led by the famous Pasang Kikuli. After a proper reconnaissance of the routes leading to K-2, the party rejected the north-west and north-east routes. Instead, it selected the south-east Abruzzi ridge.After establishing 8 camps, on 21 July two members Houston and Petzholdt reached a height of 7,925m . It was the shortage of food supplies that forced Houston and Petzoldt to return to lower altitudes. In the opinion of the party it was through this ridge that K2 peak could be climbed, which eventually proved correct.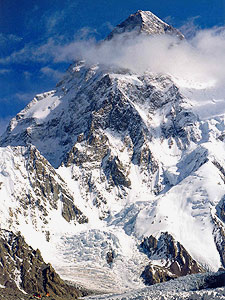 In 1939, American expedition on K-2 led by Fritz Hermann Ernst Wiessner German-American chemist came within 750 feet of the submit but what could have been mountaineering's greatest triumph at that time unraveled into a disaster. Wiessner planned the expedition on a Spartan lightweight style refusing to bring oxygen even to base camp or walkie talkies on the mountain. Wiessner was an experienced climber since his teens and was acknowledged for conquering the hardest pure rock climbs in the Elbstiengebirge near the banks of river Elbe. Along with six members he was supported by 8 porters led by Pasang Kikuli . Wiessner followed the well tried route via the Abruzzi ridge and the southwest shoulder and by mid july had established and provisioned a chain of camps up to 7534m.. Two members and five sherpas set up camp VIII on the south-east ridge at about 7,711 m and left one member by the name of Dudley Wolfe in this camp as he had fallen sick. On 19 July, Wiessner, along Pasang Lama, went up to approximately 8,382m with K2 almost in their grasp. Deciding not to spend the night in the open they descended to attempt the climb next day.
On their way down Pasang lama lost the crampons so they had to descend further to restock themselves and bring Wolfe to camp V11 In search of food they came lower but found to their horror all camps abandoned until they reached camp II. There seems to have been a complete break down in understandings leading to panic and unnecessarily abandoning of camps. Immediately three sherpas were sent to rescue Wolfe, they never returned thus Wolfe and the sherpas perished on K2.
Another American attempt on K2 was made in 1953 and failed. The expedition leader was Dr. Charles Houston, who had also led the 1938 American expedition on this peak. Dr. Houston, a medical professor, is noted for his contribution and research on the effects of high altitude on human body and diseases originating from such effects. This time the party took porters from Hunza instead of sherpas from Nepal.
The expedition started late and by 01 August had finally established the high camp near the base of the final pyramid at 7772m , stockpiled it with sufficient food for 12 days and man it with skilled climbers. Success seem certain.Then a blizzard set in and continued unabated day after day which confined them to their tents for 6 days.. Soon one of the climbers Arthur Gilkey, developed thrombo –phlebitis . They realized that the one hope of keeping him alive was to descend quickly to camp VII the higher camp needed to be restocked too. While descending the group miraculously escaped a fall. Gilkey was then secured on the snow slope with ice axes until a party could be mustered to bring him down. By the time help was mustered an avalanche swept away Gilkey. With casualties and frost bites the expedition abandoned all thought of the summit.
In 1954, an Italian expedition came to Pakistan to try its luck on K2. It consisted of twelve climbers and four scientists and was led by veteran mountaineer, Professor Ardito Desio, who had come to these mountains with Italian expeditions before the World War II.
The expedition reached Concordia in early june and were greeted with 40 days of non stop storm, their porters deserted , and one of their finest climbers, Mario Puchoz, died of pneumonia. The omen was not propitious but by end July camp 1 to 1X were established on the Abruzzi ridge till 7700m. They established an even further camp at the foot of the final pyramid from where on the 31st July, Lino Lacedelli and Achille Compagnoni launched their assault. 500 ft short of the summit they exhausted their oxygen supply but continued, it was 6 pm when they reached the summit. They remained at the top for half an hour by the time they started down, night was falling . They then realized that descending was more difficult than the ascend. During the descend they fell many times and with bruises, badly frost bitten and in last stages of exhaustion they finally reached the foot of the Abruzzi ridge having conquered what many climbers regard as the most formidable of the giants. The story of the climb has been narrated by Professor Desio in his book. "Victory over K-2" .
Itinerary . Flexible expeditions itineraries are made by us looking at your requirements and demands.
For Broad Peak 8047m, Distaghil 7885 m, Kunyang Chhish 7852m, Masherbrum 7,821 m, Rakaposhi 7,788 m, Batura 7,785 m, Kanjut Sar 7,760 m, Chogolisa 7,665 m,and other major 7600 & 6000 peaks in the Karakorum Himalayas contact our office for details.