Field Sports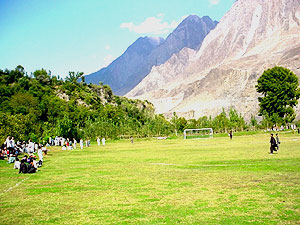 Hindukush Trails sports trips, be it soccer, polo or cricket are enjoyed immensely by Teams and clubs we have handled all taking pleasure from it as a holiday itinerary . Through Sports as means of helping the villagers in education, health and drinking water, we have been instrumental in linking foreign clubs and schools from Germany , Spain , U.K and USA with remote mountain communities in Pakistan . This is what our groups say about our sports and educational trips.
Soccer Club de Blackheath. U.K
From: simon parry
To: info@hindukushtrails.com
Subject: Attn Maqsood ul Mulk


Dear Maqsood,

I just wanted to thank you, on behalf of the whole team, for organizing such a fantastic time for us up in Chitral. It was truly the experience of a lifetime, something that none of us will ever forget. It is very sad that the current perception in the West is that Pakistan is a somewhat dangerous country to visit: all I can say is that we are doing our best to persuade everyone we talk to that a holiday in Islamabad and traveling to Chitral is a magnificent experience. ( Michael Palin is doing much the same thing with his BBC series....and perhaps he reaches a slightly wider audience.)

One more thing: when we were greeted so memorably at the school in the valley, you said there were representatives from several schools there. Roughly how many schools would that have been? ( We are trying to raise some money for education in the area, which we may channel through and I was just looking for a few more details before we go to speak to some possible donors.)

Thank you once again for all your help: it was enormously appreciated.

Yours sincerely

Simon Parry, and everyone from Racing Club de Blackheath

If you are a School Group a Club or Charity group keen to visit and help remote communities ask us for tailor made itineraries for your group.