Horseback
When we take you on a horseback trip you are on a pastime with us as our staff has grown up with horses. Horse was a means of transport till very recently before road were build into the villages from where we come.
The horses we provide are " Badakshi " as we locally call them . They are central asian & arab stock mix, bread in Afghanistan and are very good for the mountains or a mix Marwari around 12/ 13 hands
These horses are used for polo and ridding and are well maintained. They can easily do long sidtances 5/6 hrs a day.
Our horse back trips can be on a historical battle field tour , a polo festival , on high pastures or a family outing in the country side . We add local events to your horse back trip to make the itinerary all the more interesting . Families and groups have thoroughly enjoyed our trips. Let us know what you are interested in and we can tailor make an itinerary for your group. Our horseback trips have been acknowledge in prestigious magazines like Country Life.
This is what our client the General Commanding the "Queen Horse Guards" in London says about our trip.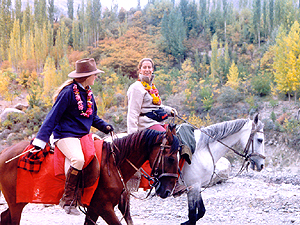 From:
Major General Sir Evelyn Webb-Carter KCVO OBE
HEADQUARTERS LONDON DISTRICT
HORSE GUARDS WHITEHALL
LONDON SW1A 2AX
Dear Maqsood,
I really don't know where to begin. You did us all proud over what will always be 'a trip of a lifetime'. I cannot underline what a huge success the whole expedition was. Your planning and careful forethought paid the full dividends and I know that all of us will be eternally grateful for the care you clearly put into this venture.
Thank you for arranging all the little extras which made the trip so special. There is a long list of these, too numerous to list but the visit to the Presidents bodyguards, staying with Colonel Kushwaqt and our entry into Chitral spring to mind. All these things reflected your own attention to detail and commitment to the project. We count ourselves lucky that we placed ourselves in your capable hands.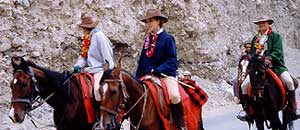 I am currently considering bringing over my wife & friends next year so that she can see the glories of the Hindu Kush as well. It all depends on what job I get in the New Year but I will keep in touch.
When the articles are printed I will make sure that I send you copies. I am quite a certain that Hindukush Trails will be most favourably mentioned.
Yours Evelyn