Hindukush Parks, Flora & Fauna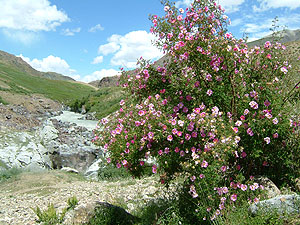 The Hindukush has a wide variety of plant species, particularly higher up amongst the summer pastures, where wild blue geraniums, hemlock, buttercups, edelweiss, blue anemones , delphiniums, carpet the meadows and mountain slopes. There are wild onion , a number of perennial herbs besides wild rose , wild strawberry and many medicinal plants. Most flower between May and July, depending on the altitude.
In spring time the Chitrali loves to adorn his cap pakol with the alpine primrose they locally call milkhon.
Forest reserves are limited to about 120km of the valley between 1900m and 2300m. Species include the Deodar (Indian Cedar) a magnificent tree some of them 1000 yrs old with trunks 12 meters in circumference, Blue Pine, Chilgoza Pine and Silver Fir, of which Deodar represents 90% of the forest cover and the only viable source of timber, although its slow growing (125 years of maturity) and susceptible to cracking. At higher altitudes there are stands of Willow and Birch and some Juniper scrub, the lower slopes are covered with ever green holly oaks.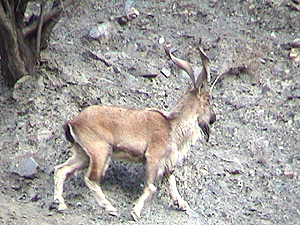 Various endangered animals and birds are found in Chitral such as Markhor, Bharal, Ibex, Brown Bear and Snow Leopard. These species were once found in the higher valleys in considerable numbers but their populations have been much reduced by indiscriminate hunting.
Chitral has the largest population of the magnificent rare Kashmir Markhor (Capra Falconeri Cashmiriensis). It is rightly called "The Monarch of the Mountains ", and is much sought by trophy hunters.
Snow Leopard - Panthera uncia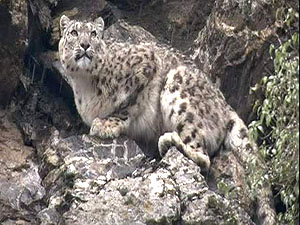 Of all the large cats the snow leopard is perhaps the most beautiful. This endangered species lives a solitary existence in summers at heights of around 5200m descending into the lower mountain valleys of Chitral in winters to around 1500 to 2000m.. It travels and hunts over a very extensive area with its pelage merging imperceptibly with the grey rocks in the arid alpine regions of Chitral. It is always difficult to sight, it inhabits Chitral but one has still to make efforts for sighting . At times it is so elusive that one needs to put a bait out. Once an ibex or goat kill is made one can easily photograph it . On numerous occasions we have sighted it stalking the Markhor. We can give you an 80% to /90 % chance to site it.
Chitral Gol National Park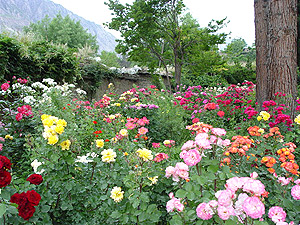 It was established by my grandfather H.H Sir Shuja ul Mulk as his private game reserve in 1910.The present owner being the last ruler Prince Saif ul Mulk. The area covers 7,745 hectares with old cedars, pine oak, juniper and birch forests. The Park is the private property of Saif ul Mulk but the wild life department is now looking after the game in the park since 1979. Although the officials from the government mention black bear in the park but none exist. There is a good herd of about 400/500 Markhorís with snow leopard, wolf, marmot and weasel in it. The park is also rich in bird life such as Monal pheasant, Falcon, Hawk, Eagle, Lammergeyer, snow cock, chukar and many other species. On many occaisions I have viewed Eagles hunting the snow cock in the valley.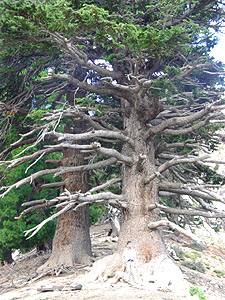 Wolves, foxes, jackals, hyenas and marmots are still common. A number of migratory birds, including the Black Throated Thrush, Golden Oriole, Oriental Turtle Dove Grey Heron, and different species of waterfowl pass through the valleys en route between Central Asia and India. The hunting of these birds, ducks in particular, is a major problem. In many of the valleys of upper Chitral, hunters use large artificial ponds by the riverbank to attract migrating ducks. On landing they become an easy target for shooting. The practice is deeply rooted in Chitrali culture and remains popular today; the advent of shotguns meanwhile has radically increased the numbers killed. The Saker Falcon is also hunted, although primarily for capture and sale in the Middle East, where falconry is a popular sport amongst the wealthy. A good female Saker Falcon can fetch as much as US $ 50,000.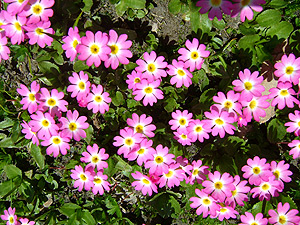 Every year from September to April about 60% of Pakistanís waterfowl pass through Chitral. Numerous species of ducks and geese pass through Chitral during their migration to and from Siberia. There are a number of high altitude lakes, which provide rest areas during the migration. Besides ducks and geese a variety of wading birds such as herons, terns, gulls and shore birds along with king fishers, wagtails and diving grebes can be spotted. Himalayan Snow cock, Monal Pheasant, Chukor, Lamergayer and the Turtledove along with the quail, breeds in Chitral.