Northern Areas Parks, Flora and Fauna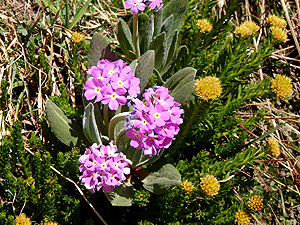 Northern areas of Pakistan lies between 32 and 37 N and 71 and 75 E and covers an area of 43,781 sq km.
The landscape is dominated by high peaks, glaciers, river valleys and plateaus linked with passes. As you rise in elevations you pass through a series of vegetation zones from steppe to temperate coniferous zone to sub alpine and alpine zones with a diverse plant and animals life. Here temperatures varies with elevation, with a marked difference in daytime and nighttime temperatures in all seasons. With melting glaciers the main rivers rise considerably during summers carrying 20 times more water than winters , cutting , eroding and reshaping the landscape.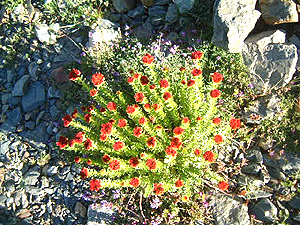 Precipitation increases with elevation, from desert like condition on low valley floors to moist, dense forests on shaded higher slopes on the southern side of the mountain ranges that receive the summer monsoon rains. Mostly forest cover is scarce with oak forests in the dry temperate zone there is a variety of shrubs like scented artemisia, blue and white globe thistles, berberis , tamarisk and buck thorn . Between 2100m and 4000m there is fir , spruce , Himalayan cedar, silver fir and two species of juniper along with birch, willow . Where the snow line recedes colourful flowers appear, literally carpeting the meadows for the short summer months in saxifrages, pea flowered astragalus, spurges, stonecrops, edelweiss,, rock jasmines, potentillas, anemones, primulas lousewort alpine campion and gentians.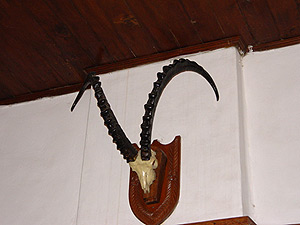 Large mammals are seen only in protected game reserves and sanctuary as human pressure have confined them to these pastures. Trekkers are likely to see, marmots, hares, foxes, ibex , bharal blue sheep and bears in higher mountain regions of Baltistan in the Karakorum range, the Haramosh range and the Deosai plateau. The ibex and Bharal sheep can be sighted in the arid mountain regions of Gilgit and Baltistan they live well above the tree line from about 3500m to 5000m. In Shimshal the population of the blue sheep has increased considerably to around 2000. It is a magnificent site to see the rams fighting during the rut when they rear up their hind legs before striking sideways with their horns. Brown bears can be seen in the Deosai plains which is declared as the Himalayan Wildlife Sanctuary. Wolves, lynx inhabit the alpine zone . Larger birds especially raptors are easily spotted. Alpine and moraine lakes are important stopover on the Indus flyway , one of the largest wetland migratory bird routes in the world where you see waterfowl, rare storks, and cranes migrating from Siberia. Also seen are sparrow hawk, marsh harrier, golden eagle, bearded vultures and Eurasian black vulture, kestrels , falcons, the endangered western tragopan , monal, partridges, chukor, Himalayan snowcock,, herons, doves and a host of native birds.
Khunjerab National Park
The Khunjerab National Park was established in 1975. It begins 30 km from Sost and covers an area of 2,271 square kilometres from the Khunjerab Pass to Shimshal area of Gojal on both sides of the Karakorum Highway including Shimshal Pamir and Ghuzherav. It was established on the recommendation of renowned wildlife biologist George Schaller to save the Marco Polo sheep (Ovis ammon poli) from extinction and to preserve the other wildlife in the area like snow leopard, ibex, Tibetan wild ass, bharal, wolf, red fox, brown bear, cape hare and alpine weasel.
The park is managed by the wild life department but the villagers are actively involved to protect the wildlife. At the end of the park is the famous Khunjerab pass leading into Sinkiang China.
Deosai National Park
The Deosai is the highest plateau in the world with an average elevation of 3500m . It is located in Baltistan at the boundary of the Karakoram and the western Himalayas. Uninhabited and little-used, it is home to Himalayan brown bear , golden marmots, snow trout and a variety of flora . In 1993 the Deosai National Wilderness Park was established in this area covering 1400 sq km.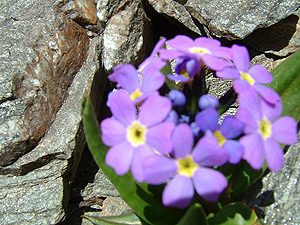 A jeep track crosses the Deosai between Skardu and the Astor valley. From Skardu, the road heads south past Sadpara Lake continuing west across the Deosai plateau. As it leaves Deosai, it skirts the northern shore of Sheosar lake and into Astor valley.
From June to September, designated camping areas open at Ali Malik Mar, Shatung, and Chogo Chu (Bara Pani). The Himalayan Wildlife Foundation works in the park, and its nature guides take visitors from Chogo Chu on marked trails to designated bear- viewing points . The undulating meadows here have no trees or shrubs but offers a variety of biodiversity , during spring and early summers one can view millions of wild flowers in bloom all over the lush green grassland and rolling hills at a scale scene no where in the Himalayas.