Biafo Hispar Snow Lake
| | |
| --- | --- |
| Duration : | 23 days trip, 12 walking days |
| Max Height Gained : | 5151m |
| Grade : | Extreme, Technical |
| Season : | Mid June - End Augt |
Brief Description
This is a trek into the most extensively glaciated mountain terrain on the planet earth. Togeather the Biafo 65km and Hispar 49km long glaciers form an ice highway lined with magnificent peaks on this traverse from Baltistan to Hunza. More than a dozen 7000m peaks tower above these glaciers and the Biafo's granite spires Lukpe Lawo Brak 6593, Lupke Brak 6029 and Baintha Brak or The Ogre 7285m form a magnificent cathedral of mountain architecture.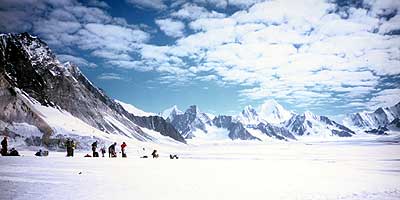 Over two third of the trekking on this route is over glaciers ,approaching Snow Lake itself there are a couple of crevassed areas where it may be necessary to rope-up. The high point of the trek is the camp at the Hispar La, at a height of 5151 metres. This offers quite outrageous panoramic views of the whole area including a magnificent sunsets across the valley of Hunza. Descending the Hispar is more challenging than the ascent of the Biafo, and involves crossing a number of tributary glaciers, with at times difficult underfoot conditions.
Itinerary
Day 01: Arrival Islamabad. Transfer to hotel. Trek briefing for permit. Hotel
Day 02: Drive on the Karakorum highway to Chilas . Hotel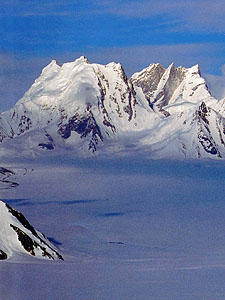 Day 03: Drive along the Indus river through Rondu Gorge to Skardu. Hotel
Day 04: Explore Skardu/ acclimatize / finalize porters. Hotel
Day 05: Drive to Askole 3300m. Camp
Day 06: Trek to the grassy slopes of Namla 6/7 hrs. 3500m.
Day 07: Trek on the glacier / moraine to Mango 5/6 hrs. 3660m. Camp
Day 08: Trek to the meadow of Baintha 5 hrs .3990m. Camp
Day 09: Rest at Baintha to acclamitize 3990m. Camp.
Day 10: Trek on the Baifo glacier skirting crevasses to Marpogoro 5/6 hrs. 4410m. Camp
Day 11: Trek on the ice highway of Baifo glacier to Hispar La base 5/6 hrs. 4770m. Camp
Day 12: Trek on to the Hispar la 5/6 hrs. 5151m Camp
Day 13: Trek descend down the crevassed Hispar glacier to Baktur Baig 7/8 hrs. 4470m. Camp
Day 14: Trek descend steeply down ablation valley / moraine to Shiqam 7/8 hrs. 4170m. Camp
Day 15: Trek through moraine to the grassy camp at Dachiqan 6/7 hrs. 3960m. Camp
Day 16: Trek through summers pastures and shepherds hut to Hispar 6 hrs. 3383m.Camp
Day 17: Trek to Huru village 4/5 hrs. 2972m. Camp
Day 18: Drive to the fabled Karimabad Hunza. Hotel
Day 19: Free day Explore Hunza Forts and village of Karimabad. Hotel
Day 20: Drive on the Karakorum highway to Chilas. Hotel
Day 21: Drive to Rawalpindi. Hotel
Day 22: Free shopping day in the bazaars of Rawalpindi. Hotel
Day 23: Transfer to airport for International flight