Rakaposhi Base
| | |
| --- | --- |
| Duration : | 13 days trip, walking days 5/6 |
| Max Height Gained : | 3261m |
| Grade : | Easy |
| Season : | June - September |
Brief Description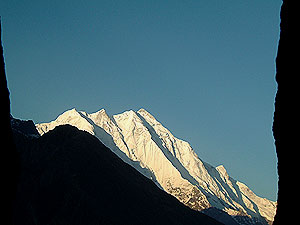 One of the shortest and easiest treks leading to a 7000m Karakoram peak base camp with sweeping views from Rakaposhi to Diran. The Minapin Glacier sweeps down from the 16km-long fluted snowy ridge that connects Rakaposhi and Diran. The Minapin village in upper Nagyr sits along the Minapin riverís east bank above the confluence of the Minapin and Hunza rivers. The excellent short trek from Minapin village to Rakaposhi base camp, known locally as Tagaphari, is an ideal introduction to Karakoram trekking. Easily accessible from the KKH, the trek follows a good trail, offers sweeping vistas of Rakaposhi and Diran and is the standard route to the base camps of both peaks.
Itinerary
Day 01: Arrival Islamabad transfer to hotel. Free afternoon in the bazaars Hotel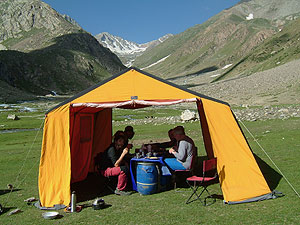 Day 02: Drive on the Karakorum highway to Chilas . Hotel
Day 03: Continue along the Karakorum Highway to Karimabad Hunza. Hotel
Day 04: Explore Baltit village the traditional capital of Hunza. Hotel
Day 05: Acclimatizing walk in Hunza. Hotel
Day 06: Drive to Passu village 2400m explore Batura glacier. Hotel
Day 07: Drive to Minipin, walk to Hapakun 3 hrs 2700m. Camp
Day 08: Walk to Tagafari meadows 3/4 hrs.Camp for two nights 3100m.
Day 09: Day walk onto a ridge to have excellent views . Camp 3100m
Day 10: Walk back to Minipin 4 hrs. Drive to Gilgit 2 hrs .Hotel
Day 11: Drive to Besham. Hotel
Day 12: Drive on Karakorum highway to Rawalpindi. Hotel
Day 13: Transfer to airport for International flight