Swat Katchkani
| | |
| --- | --- |
| Duration : | 14 days trip, 7 walking days |
| Max Height Gained : | 4766m |
| Grade : | Demanding |
| Season : | July - Sep |
Brief Description
The Katchkani pass is a very demanding short trek crossing a glacier and the high Katchkani pass 4766m between Swat's Ushu Gol and Chitral's Bashqar Gol. Upper Ushu Gol has lush pastures, forested hill sides and turquoise lakes and high rock wall that dwarf Yosemite's Al Capitan while the Laspur side is in contrast harsh and barren with welcoming lush valley floors .This trek through forested glades and flowers-filled meadows along sparkling trout streams leads over the high intimidating pass into the lovely peaceful Chitral valley.
Itinerary
Day 01: Arrival Islamabad. Transfer to hotel. Hotel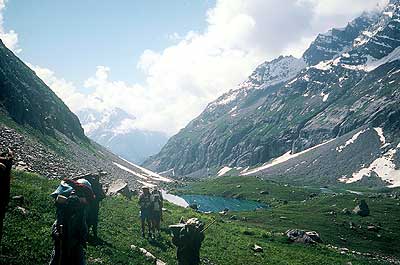 Day 02: Drive through picturesque Swat valley to Kalam 2000m. Hotel
Day 03: Drive to Mahodan short trek 3 hrs to slightly higher camp Dogaik. Camp
Day 04: Trek beyond Diwangar to Palagar 4/5 hrs. Camp 3200m
Day 05: Trek to the rock walls of Bokht Shal 4 hrs Camp 3840m.
Day 06: Rest Bokht Shal acclimatize. Camp 3840m.
Day 07: Trek cross Katchkani pass 4766 m to Khonza Ouch 8 hrs. Camp 3900m
Day 08: Trek to the huts of Subar 7 hrs. Camp
Day 09: Trek to Sor Laspur 4/5 hrs .Camp
Day 10: Drive through the Yarkhun valley to Chitral . Hotel
Day 11: Visit Alexander's lost tribe the Kalash of the Hindukush overnight Ayun.
Day 12: Fly to Peshawar. Free day Peshawar bazaars street of storytellers. Hotel
Day 13: Drive via Taxila Buddhist sites to Rawalpindi. Hotel
Day 14: Transfer to airport for International flight